When is the Symposium?
The 2020 ABET Symposium will be held from Tuesday, March 31 to Wednesday, April 1, with pre- and post-conference workshops taking place on Monday, March 30 and Thursday, April 2.
Is there a preferred venue for lodging?
The ABET Symposium will have a dedicated room block at the Renaissance Nashville Hotel at a discounted rate. Space is limited and will be on a first-come, first-served basis. Reserve your room now by following this link.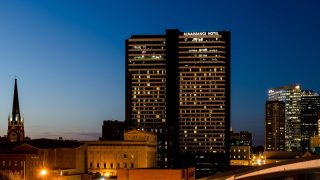 Renaissance Nashville Hotel
611 Commerce St. Nashville, TN 37203
Phone: (615) 255-8400
What can I expect at the Symposium?
Plenary Sessions
Plenary sessions will bring together leaders from industry, academia and government to discuss accreditation, assessment, and explore data science as it applies to the STEM fields and higher education.
Breakout Sessions
Symposium speakers come from around the globe, sharing their knowledge and experiences to help you improve your accreditation and assessment processes. Sessions at the ABET Symposium fall into three focus areas: accreditation, assessment, and our theme, Data Impact. Using these focus areas, you can set your schedule to get the most out of your Symposium experience.
Networking
With over 800 people in attendance, you will have the opportunity to connect with professionals in your area of interest, as well as throughout the STEM disciplines. Attendees regularly rank this experience as one of the great benefits of the ABET Symposium. Create lifelong friendships, share best practices, and take new ideas back home to implement in your program. Scheduled networking breaks, meals and a day 1 welcome reception create a comfortable environment to meet new people.
What if I need help onsite?
The Symposium features an onsite help desk and knowledgable ABET staff to provide any information you seek. If you need help beforehand, contact us at comms@abet.org.
What is included with registration?
Registration includes access to plenaries, breakout sessions, Discussion Dens, networking breaks, breakfast (2), lunch (2), and the welcome reception.
Are there discounts for Program Evaluators?
Yes! ABET Program Evaluators receive a 50% discount for Symposium registration and a 20% discount for workshops. PEVs will receive an email with a code to use when registration opens, but if you did not receive it or need further assistance, contact us at comms@abet.org.
How can I be a presenter at the Symposium?
We are no longer accepting proposals to speak at the 2020 Symposium. If you would like to be added to our mailing list for updates, including information on submitting proposals for the 2021 Symposium, please follow this link.
How do I obtain a visa for international travel?
If you need a visa letter for international travel to the Symposium, follow these steps:
Register and pay for the Symposium.
Send an email to visa@abet.org to request your letter.Please include:

Full Name
Position/Title
Institution
Address
Email Address
Confirmation Number

Please allow seven (7) business days for processing. More info on visa letters can be found here.
I need documentation to justify my trip — can you help?
Do you need assistance in providing your organization with information to justify your trip to attend the 2020 ABET Symposium?
We've developed a "Justify My Trip" template (in Microsoft Word format) to help state the business and academic case for your attendance. The letter outlines the benefits of attending the event and provides an area for you to enter your requested budget.
What is your policy on registration changes and cancellations?
Registrants for the ABET Symposium agree to provide ABET with written notice to cancel their registration. To receive a refund, mail or e-mail a written notice of cancellation to:
ABET
Meetings Department
415 N. Charles Street
Baltimore, MD 21201
E-mail: 
meetings@abet.org
Refunds
A. If written cancellation notice is received 15 days or more prior to the Symposium date, ABET will refund the amount paid to date, minus a 25% service charge.
B. Written notices of cancellations will not be accepted within 14 days of the event start date. ABET will not refund the registration fee and will bill the registrant for any amount left unpaid to date, based on the applicable fee at the time of registration.
C. If you must cancel your registration because you are unable to obtain a visa in time to attend the Symposium, ABET will refund the full amount of the registration fee paid to date.
Substitutions
If you are not able to attend the Symposium after registering and paying, you may transfer your registration to anyone. All registered attendees may access this option via their 'Accounts' page on Cvent. The option to modify your account and transfer your registration will close 24 hours before the event start date.
Workshop Cancellations
Please be sure to register for the workshop you plan on attending. Space is limited and the workshops will sell out.
When registered for a Symposium workshop, you are only registered to that exact workshop. If space is available, you may switch to another time slot of the same workshop.
Because of limited space and high demand, there will be a cancellation fee if written notice is not given 14 days before the event start date.
You can find our cookie and privacy policy here.